TESTIMONIALS
"I have one of DW Steven's guitars and am it's original owner, so I am probably still listed in his register. I came to his shop in Golden and I believe this guitar was quite new at the time. I bought it and went home with it! I lived in Denver at that time, where I played guitar in the bluegrass band Front Range, and though my DWS M-40H wasn't my bluegrass guitar, it got a lot of playing time at home and on various studio recordings I have done over the years. It is a wonderfully built and beautiful sounding instrument. Just thought you might like to know. "
(Model: M-40H Serial No.: 90-131 Date completed: 9-21-90)
Bob Amos
Playing a DW Stevens Guitar since 1982
"I purchased my DW Stevens guitar during the summer of 1982 and was delivered around Christmas of 1982. It is the only guitar that I have played since then. I play professionally and gig fairly often here in Denver. Over the years, I had Denny work on it twice. Some musicians take very good care of their instruments (wiping them down each time before putting them away). Me? I don't. I play it, maybe even sweat on it and then put it back in its case. I cannot tell you the number of hours I have played my guitar, effectively hugging it for thousands of hours. When I had Denny repair it for the last time, I was embarrassed to present it to him. It didn't have too many scratches or dings, but the finish had worn off the neck from all of the use and there were some stains on it from sweat (I guess). Denny looked at it and just said, `don't be embarrassed, I'm glad to know that you are using it.`

I will never forget the times I entered his shop and tell the story anytime somebody asks about my guitar. BTW, I get compliments on it often for both its sound and its beauty. I'll be playing at the Winter Park Jazz Festival in about two weeks. It'll be heard by quite a few people."
Timothy L. Hurley, Englewood, CO

Indian Rosewood Back with Spruce Top #85-114
"Your husband left a beautiful legacy. I'm quite proud to be a caretaker of a small part of that legacy. The guitar is stunning. I'm really just a novice player but I'm a well known designer and I love having beautifully designed and crafted items around me. It's inspiring. "
Tinker Hatfield, Nike Inc

First Annual Rocky Mountain Show
"I'd be remiss if I failed to mention four local luthiers whose work was represented at the show. The legendary D W Stevens of Golden, CO, whose work I've admired since 1976, had a sweet immaculate acoustic that I could spend a porch full of summer evenings playing."
K.L. "Doc" Pepper, Vintage Guitar

Fourth Annual Rocky Mountain Guitar Show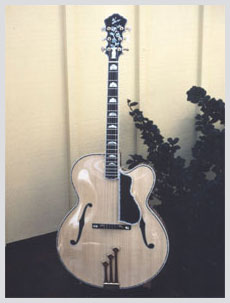 "John Soneff had what was easily the show's finest guitar - a stunning custom-carved arch top by hometown luthier, D W Stevens."
Mark Weiman, Vintage Guitar

"My memories of Denny are many as it was always a treat to spend time in his workshop. First he would show me whatever he had fixed on my mandolin and then with a certain twinkle he'd say, "Can I show you something?" He then proceeded to pull out his latest creation and listen carefully as an approving parent might watch a child while I played on some outrageously splendid guitar he had made. His love of detail and precision was only bested by his passion for great guitar tone. His workshop, oh, never even a single piece of sawdust in sight. You could eat off the band saw! I always considered myself fortunate to work with him. He was a great luthier and an even better man."
Charlie Provenza

The following article was featuring Dale Bruning by Jude Hibler in the "Jazz Guitar Profiles entitled "Jass Guitarist Nonpareil. The article also featured D W Stevens, ""Denny Stevens: Master Luthier" 20th Century Guitar Magazine, May 1999.

"One of the things that is so wonderful about Denny is that he is always looking toward making changes that enhance, especially the acoustical properties of the instrument. My old Stevens guitar has parallel bracing, but this acoustic one has X-bracing with Engelmann spruce. His instruments are so playable with tone, sustain ability and the visual aesthetics just knock you out!"
Dale Bruning

"Denny is the beautiful and quiet unassuming man. He conducts his business by his reputation from others rather than advertise. People who play his instruments realize just how good he is.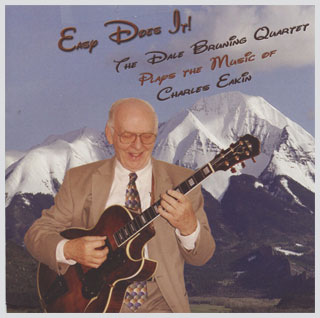 I remember when Chuck Wayne, my mentor, was in Denver to do a Dick Gibson Jazz Party several years ago. He played my new Stevens guitar and said, "This is nice, Dale." and handed it back to me. Then he disappeared for about an hour and I thought, "Where did he go with my guitar?" When he finally came back, he asked me where I got this guitar. When I told him and where Denny lived, he asked, "Does he ever get to NY City?" He remarked, "This guy (DW Stevens) is as good as anybody. I've been a friend of old man John D'Angelico and Jimmy D'Aquisto and this "Stevens" is in that same league."

"I only wish that more people had known about Denny's guitars. He didn't seem to mind that and was busy despite it. A humble man, indeed. No place for ego there!"
Mary Flower

"As a writer, Denny frustrated me because he would never allow me to write a story about him. I wanted to let others know about this gentle, quiet, and oh, so talented man. Not just because he was my friend, but because of the results of his art."
Jude Hibler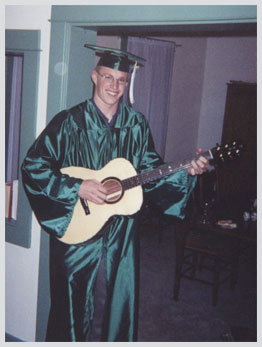 "I don't even know where to begin, the incredible guitar or just the wonderful friend that you are. You have truly shaped the way I will always remember my high school graduation. Denny, you are without a doubt the most incredible craftsman I have ever seen. Your guitars are amazing and no matter what guitar company I ever keep (whether I'm surrounded by classic Martins or ancient Gibsons) I'll feel perfectly comfortable saying that my guitar is the best!"
Steven Haver

"Over the years, I always look forward for the opportunity to show off my Stevens guitar. I still carry the pictures of the "You-in-progress until completion" inside the case! It brings smiles and warms my heart each time I share my affection of the instrument and your love."
Paul Frazier

"Denny was a great guy with great loves, and always reflected a vibrant life of graceful acceptance. That's probably the hardest thing to achieve, and he pulled it off right to the end. Well done."
Green Daniel

"We will always cherish the memories of the times we spent with both of you. Denny was not only a consummate luthier and craftsman, but more importantly, was also a most considerate and thoughtful human being and friend. He will be missed by everyone who had the good fortune of knowing him and his legacy, among those of us in the guitar-playing community of Colorado, will last forever."
Ron and Kris Palumbo


"We sit quietly, reflecting on the kindness, the care, the immeasurable talent and the gentle nature of Denny Stevens. His spirit touched our heart and will forever live on in all of the music he helped to create."
Steve and Marilynn Mesple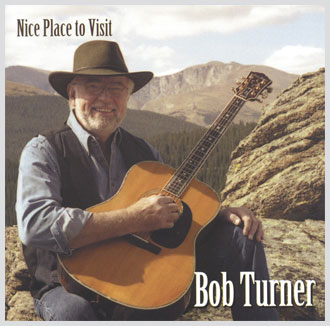 "Denny built guitars and mandolins for decades, and they are cherished - each and every one." After Denny's memorial, I went home , grabbed my DW Stevens M-38 custom and played it for a couple of hours. My own tunes, Waylon Jennings tunes, anything that came to mind. A fine little melody and some lyrics started sprouting up and I think I'll have a pretty good song materialize from that early evening of remembering Denny."
John Chandler


"Denny, I play your 70 pro pretty much exclusively now with the Colorado Jazz Workshop. The feel is great, of course, and it's sound is warmer and a little punchier than my other Campellone. It kind of reminds me of the sound Jim Hall has with his instrument (albeit with much less technique). All three of your guitars I have continue to bring me great joy every day."
Matt Miller

"Hi, Denny! I remember that Epiphone Emperor! $5! What a rip off! I recall it was the first advice I ever got from you, and probably the best: 'Wrap it in a towel and hit it with a big hammer.' It worked!"
Harry Fleishman, Luthier

"You have always been such an inspiration, and always valued as a friend. I wish I'd been better at expressing it. The day I heard about your diagnosis, I had just been singing your praises to my class, telling them about some of your amazing work and showing them photos from Larry Sandberg's book." You are such a fine builder and designer. I sing your praises to all who will hear, it would be nice to let people know. I remember that you used to be concerned about flying below the radar; therefore avoiding the limelight."
Harry Fleishman, Luthier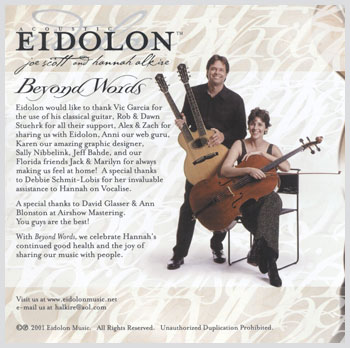 "Denny, you are an amazing man and have done more than you realize for me and other guitarists around the country."
Joe Scott

"I cherish the gift you made for me. Even though I knew what fine guitars you made, I never imagined a guitar could look and sound so sweet and be such a joy to play. Now I know. Thank you."
Joe Cohen

"Hannah and I would not missed Denny's memorial for the world. We were honored to be a part of it and Denny will always have a special place in my heart because he helped me discover my voice with the amazing instrument (guitjo) he built for me. It inspired me to write seven albums of music, and for that I'm ever grateful."
Joe Scott

"It was hard for me to read about Denny's passing. Although I only had the privilege of meeting him a couple of times, he will always have a place in my heart. He was an innovative designer, yet always meticulous in his attention to detail. Words cannot describe the visual and tonal beauty of his instruments. Anyone who owns and plays one, is indeed fortunate. D W Stevens joins Antonio Stradivari among the timeless."
Doug Hall
"I once had four of Denny's excellently crafted guitars, and more recently in time just two left out of the stash. One, a Brazilian rosewood (authentic, old growth forest wood panels back and sides) curing out since the 1960s, with a fine piece of European cedar for the top, built for me in 1979. This cutaway classical-guitar design guitar was in excellent condition. The other was a Tiger white-stripped maple acoustic (also cutaway) built for me in 1981. It was also in excellent condition and was the first and last guitar he built with a maple leaf design on the fretboard made from abalone seashell. Both were used in a variety of studio work, including two soundtracks that I composed for the Grand Canyon and Yellowstone national parks. I recently decided to send both onto professional guitarists, for sale, but will leave out their names. I haven't played these instruments in years and felt no need to continue keeping them. Unfortunately, the value of either didn't seem to hold up in price after all these years, but there you have it: stiff competition in a new luthier's market where excellent guitars are also made, and for less cost. Still, it's the nostalgic attachment and value we have to these things that we own, and likewise somehow own us. I, personally, don't choose to live in the past and am quite agreeable with life in the present and looking forward to the future. Perhaps these other recording artists will do something great with these two very fine instruments. Denny did indeed make unique and high quality instruments, and of course he was also unique and peerless as a man and luthier. Here's to absent friends.
Rich Holtzin
"I was up late checking out various music/guitar related internet web sites and stumbled upon the web site you created in memory of Denny. It brought me great joy to see that you have chronicled his life and achievements for the world to see. I consider myself extremely lucky to have known him, and honored to have two of his wonderful instruments. Even though I don't get out to play much these days, it's pretty much assumed that if I am at home, you'll find me sitting or walking about with one of his guitars strapped around my neck, constantly playing tunes or practicing! Just a night ago I awoke from a dream where I was once again with Denny in his shop, looking at a new guitar he had made for me. I cannot believe the coincidence in finding your web site right after that dream. To this day, Kris and I miss him very much, and also miss the wonderful times we shared with both you and Denny."
Ron and Kris Palumbo

"So this evening I went online and looked up Denny Stevens Guitars, and found this web site. I had seen the posting about his passing months ago but he was sort of like a comfortable flannel shirt, someone to ask questions of, and get some of the most direct or hilarious comments back from! His smile always said it all.

The web site brought back a flood of memories. I found a profound loss of a friend that taught me a great deal about beauty, elegance, and refinement, and patience. I have several instruments, but none of them are as sublime as the classical that is shown under construction on on the Philosophy page. It brought tears to my eyes as I have these photos in my album that I built year after year with notes and photos that Denny sent as an encouragement of my own guitar-mania.

I will get the guitar photographed properly and send you copies, it is still in mint condition and has been played thousands of hours and still is one of the most refined classical guitars I own...or as a prominent composer remarked, "Wow, What a beauty, is it new...", and eyes bulging walked away when I told him the age of the instrument.

To date the guitar has been lovingly cared for and the matching set of wood resides in Berlin, Germany. The wood was received by German Master Guitar Designer, Angela Waltner, and will be used on her top line Essence model. She knows about Denny from my emails to her and what I was looking for, and she will be making a tribute to him, and the 'essence' of the guitar. She is very honored to follow in his shadow.

Denny's Master grade Englemann Spruce/ Claro Walnut Classical is this: the voice of an angel, with the languorous tenor of velvet. It sings unlike any guitar I own, and can produce images; passion, romanticism, the timeless elegance of the renaissance and the fire of a tango.

I am deeply saddened about him but know that I own a piece of his history, and the mark of a friendship that I can never replace. That friendship and love was renewed when I saw the website. I greet him every-time I open the case and look at the beautiful guitar within.

I need to let you know something. When I ordered the guitar I asked for a really good case with purple lining and all sorts of dumb things, you know, 'Mr. Classical'...we always want the moon, but what I got was a true surprise. Denny did a lot of remarkable and very 21st century things on the guitar that now a days have become standard practice but they were invented by him. But, what was the real clincher was the 'bull hide' cloth Everest case he ordered with Mauve velvet lining...do you know to date I still love it every time I open the case. Memories still recall the smile on his face when I saw the color of the lining with my new classical guitar inside, a presentation case for a Presentation guitar, made by the hands of a Master. There are many friends and artists who all have that sense of Sharing Wonder every time they open their guitar case and smile...
Most sincerely,
Rodney Burr


The first guitar that Denny made for sale was completed on the same day that John D'Angelico died.

From Left to Right:
John D'Angelico, Johnny Smith, Jimmy D'Aquisto
Denny Stevens