MY CAREER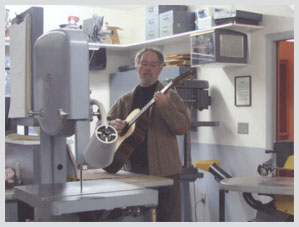 After Denny graduated from high school, he was employed at Sundstrand Aviation and within a short time, he became a manager in Production Control. He continued to work there for nearly ten years. Because the company was employed by government contracts and lay-offs were common, he decided in 1970 that he'd much rather be building guitars than facing the pain that lay-offs brought to him and to his employees. He was a caring, considerate and humble man.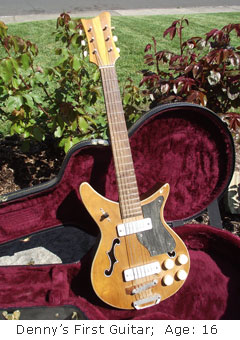 Denny knew his calling early in his life and began his career of building guitars about the age of 16. He had natural musical and artistic abilities. He wanted a guitar to play at school functions in a band, but his parents couldn't afford to buy one, so he made his own out of a door.

His mother was an extremely tolerant person and recognized her son's abilities and permitted him to use the kitchen table as his workbench! He had the mind of an inventor and could figure out how to fix or create anything he could envision. The bathroom tub had another purpose - to bend the sides of a guitar. He was meticulous about order and made sure the messes he made were cleaned up when a process was completed. In 1965, he was building guitars for people who wanted to have a hand made guitar.

Oftentimes, he would receive offers to be on PBS, radio, or to be interviewed for magazine articles and be promoted. He declined every one of them because he preferred to have referrals made by his reputation (by word of mouth) rather than the media. Many asked if they could apprentice with him and he apologetically turned them down.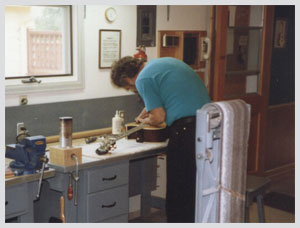 He was a "one-man" operation. According to him, his purpose was to build the finest guitar he could possibly make for his client, the musician.

Denny was a unique businessman. Whenever a musician wanted to order an instrument, he would conduct an interview, asking all kinds of questions to find out exactly what his/her expectations were. He listened carefully and observed hands, fingers and body type so that he could design and build a truly custom instrument specifically for his client. He didn't have a written contract for one to sign. He would simply put his/her name on his waiting list and when he was ready to begin, he'd let his client know and request that half of the amount of the agreed price be paid before he began. When the instrument was completed, he'd inform the musician and the remaining amount was due upon receipt of the instrument. His waiting list sometimes exceeded 5 years, but people felt it was well worth the wait and were patient.