MY INSTRUMENTS
All in all, there are 198 "D W Stevens" instruments in existence. Denny was a versatile builder and each instrument is truly a masterpiece. He made 130 flat tops (6 standard models and 2 experimental tulip designs) 33 arch tops (3 models and 4 styles), 15 classical, 10 mandolins (2 reverse curls), 1 acoustic bass, 1 tenor ukulele, 1 tenor guitar, 2 electric guitars, 2 lutes, 2 guitjos and 1 banjo.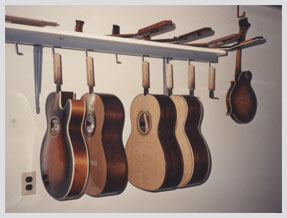 As he became more professional, a brochure was included with each custom order that stated, "Every model is constructed with the same exact standards with great attention to detail and material quality. Bracing and construction techniques using aged woods produce a rich resonant tone with particular attention to balance, clarity, projection and volume. They are built to produce an excellent sound when new and as they continue to age. The instruments will become louder and more open for many years to come."
His inlays were hand-cut and his finishes were impeccable. They were buffed and hand rubbed with high gloss lacquer. He designed and built tail pieces as well. On the fancier models inlays were made on the tuners so the neck and tuners would have the same design. Several of his machines were also handmade by him. His shop looked like a professional machine shop.